Sign-up to receive Joanie's newsletter for giveaways and new releases
NEW BOOK:

Spotlight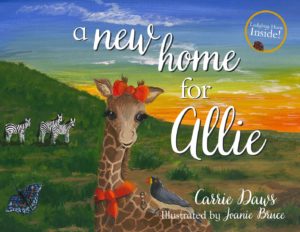 "A New Home for Allie"
Written by Carrie Daws and illustrated by Joanie Bruce, A New Home for Allie is about a sweet little giraffe whose father is a member of the Animal Jungle Patrol. When her father gets orders to move from Kenya to Somalia, Allie is concerned about leaving her friends and the only home she has ever known.
Carrie Daws, a prolific author of inspirational books for the military, helps military families survive and thrive while living in a regimented and unpredictable lifestyle. Now she has written a book for children 5-8 years old, helping them learn to find and make new friends wherever they go.
A New Home for Allie is now available for pre-order on Amazon: http://amzn.to/2EHUA6N
Click To Tweet
Allie loves her home in Kenya. But her dad works for the Animal Jungle Patrol, and he just received orders to move their family to Somalia. She has many questions, and the journey will be long. Will the new place be like what she knows? Will she find friends in her new home? And will she ever see her best friend again? What awaits her in A New Home for Allie?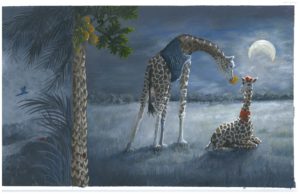 Endorsements for "A New Home for Allie":
"With lush illustrations and a heartfelt story, A Home for Allie is sure to ease the transitioning child. A wonderful tool for parents and caregivers. Kids and adults alike will savor each beautiful page."
—Jocelyn Green,
author of Faith Deployed: Daily Encouragement for Military Wives
"Author Carrie Daws has given us a gift with A New Home for Allie. The characters are engaging and the illustrations beautiful. Moving to a new place can be difficult for children, especially those with a parent in the military. This book presents the process in a positive and encouraging manner. Definitely a book I'm adding to resources I recommend."
—Edie Melson,
award-winning author of While My Soldier Serves, Prayers for Those with a Loved One in the
Military
"A New Home for Allie strikes a chord for constantly relocating military families and is a must-have for any child's library! Allie works through the process of parting with old friends, embarks on a journey through unfamiliar lands, arrives at her new home with an open mind, and is rewarded with a new friendship. Though it sounds like a simple process, adjusting after a move is an immense emotional strain and impacts the whole family – especially little ones. Carrie Daws is able to capture the fears, concerns, and insecurities children face before and during a move, and offers an identifiable character for them to relate to during their transition. Allie's acceptance, trust in her parents, and positive outlook are key components to her successful transition. And, if we could only have classrooms full of Maribelles to welcome newcomers, the world would truly be a better place!"
—Kellie Artis,
Director of Communications, MILLIE – Bringing Military Families Home
"As always, Joanie Bruce shows brilliant capability in this elegantly painted and beautifully rich pictoral story. A tale of a far away place with waterfalls, rivers that glisten, bursting and warm sunny skies, and gorgeous vistas, so very different from where most of us live. Yet her precious characters' faces, with kind eyes, make this place feel somehow familiar. Joanie honored this deeply profound story with every paint stroke. All of it put together is….sublime."
—Lindy Burnett
Award-winning Illustrator and Artist
____________________________________________________
    Recent Release:                                        

                                                                                  

"Holly, Ivy, & Intrigue"
Even though this is a Christmas Trilogy, it can be enjoyed year round. It's a story fun-packed with suspense, mystery, and a ton of Christmas. These three stories, written by Alexa Verde, Denise Weimer, and Joanie Bruce, are available now.
Joanie's story: "Christmas Murder Mix-up"
"I have to get rid of her now."
After four months of a blissful marriage, Paige is devastated to overhear her husband, Cooper, say those words to his best friend. Because of a suspicious Christmas gift, a gas leak, and a home invasion, Paige's love for Cooper is tested to the limit. Will their marriage survive the Christmas Murder Mix-up?
Alexa's story: "Holiday Pursuit"
When Brianna Rockwell's brother finds himself in danger and disappears three days before Christmas, she does everything to rescue him. Brianna dodges bullets, escapes fire, and even turns to her longtime crush for help. But the closer she gets to solving the mystery and finding her only sibling, the more desperate someone gets to silence her forever…
Denise's story: "A Holiday Intruder"
Kelsey Jordan prefers upcycling junk and refinishing antiques for her store in a Georgia mountain town to being the center of attention. When a robbery and an unknown benefactor shove her in the middle of a decades-old mystery, and a real estate developer and a former baseball star compete for her attention, Kelsey isn't sure where to place her trust.
Paperback format available NOW!